Free To Air (FTA) dishes receive unencrypted television or radio broadcast signals. They can decode standard MPEG-2/DVB-S for digital television. FTA receivers are designed to detect active transponders and their channels without being pre-programmed thereby collecting any available information they can detect. With the use of these receivers, television viewers can receive transmissions without subscription.
FTA dishes usually come with a LNBF, which is a LNB (Low-Noise Block) integrated with a feedhorn. The feed horn channels the signals between the transceiver and the reflector, while the LNB converts signals from electromagnetic or radio waves to electric signals.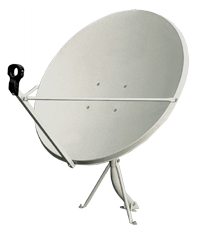 FTA satellite receivers require a standard DTV-compliant dish easily found within the C-band and Ku-band system. A C band is a portion of the electromagnetic spectrum used for communications. Its microwave frequency ranges from 4 to 8 GHz and is primarily used for open satellite communications. C band dishes often come with TVRO (Television Receive-Only) satellite reception systems, which rely on unencrypted transmitted feeds and uses open standards.
The Ku band is another portion of the electromagnetic spectrum in the microwave frequency. It ranges from 12 to 18 GHz. Generally used for satellite communications, Ku band satellites are used by television networks to transmit signals from remote locations for editing and broadcasting. Unlike the C band, the Ku band is more flexible because the ratio of its power to the dish size can be adjusted.