A speaker is a device that converts electrical signals into actual sound. Speakers accomplish this by using a magnetic reader or antenna to receive an electrical signal from a radio station or magnetic storage device. The magnetic reader is then connected via a wire to an electromagnet that can be turned on and off in accordance with the electrical signal. The electromagnet is then used to pull a diaphragm back and forth, which moves the air around it. As the air moves, the listener's ears and brain are able to interpret a frequency, which can be perceived as an actual sound.
How Speakers Blow
Since paper and steel fasten the diaphragm to a speaker, the diaphragm has a finite amount of space in which it can freely move. When a frequency is too fast, the electromagnet pulls the diaphragm back and forth so forcefully that it begins to tear. As the diaphragm begins to tear, the air around it begins to pass through it rather than move in accordance with the frequency. When this happens, the listener will be unable to interpret the sound and the speaker will be useless until the diaphragm is repaired.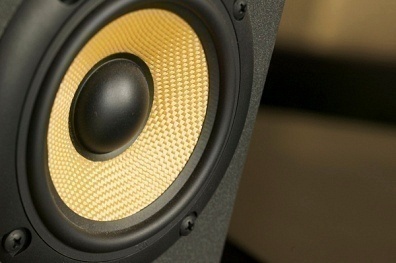 How to Prevent Speakers From Blowing
Users can easily prevent their speakers from blowing by keeping the sound emanating from the speakers at an audible level without being too loud. This allows the user to hear other people and activities in the same room. As a general rule, if a speaker begins to shake other objects around it, the user needs to turn the volume down. As long as a user does not constantly keep his/her volume at its maximum, the speaker should last years without any damage.