Television antennas are generally installed on top of buildings, which makes the entire structure susceptible to lightning strikes. In order to protect the building that the TV antenna is attached to, the antenna has to be grounded properly. Another danger of mounting a television antenna that is not grounded properly is the excessive static electricity build-up that is discharged to the base structure. Additionally, most city or local ordinances require TV antennas to be grounded in order to minimize fire hazards in residential structures.
How to Ground a TV Antenna
Step 1 – Pick a bolt to loosen on the TV antenna mast. Loosen the bolt by turning it clockwise three times with a wrench.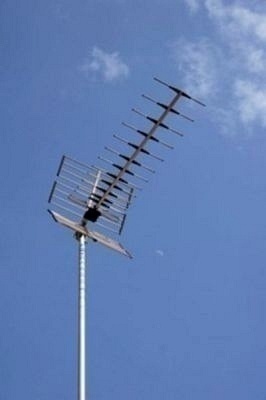 Step 2 – Remove paint or protective coating form the area around the base of the loosened bolt so that the grounding wire connection will directly touch the antenna base metal.
Step 3 – Tighten the bolt by turning it clockwise with a fastening wrench. Seal the parts of the metal exposed in step 2 with apoxy sealant or paint.
Step 4– Run the ground wire along the shortest path possible to the ground rod connected to the main earth ground of the building's electrical system.
Step 5 – Ensure the TV antenna's coax cable enters the building through (or as close as possible) the same place where cable TV or phone wires enter, to ensure that the home has a single point of entry. This point should be grounded to the system ground rods using the shortest path possible.
Step 6 – TV antennas and masts are required to be bonded to a ground rod of at least 8 feet. The ground rod should be as close to the structure as possible. When using a roof-mounted antenna, the ground wire should be run on a straight path down to the ground rod along with the antenna coax that is grounded prior to entering the structure. Routing the coax directly into the home with the additional grounding can prove dangerous.
Step 7 – Insert the ground wire into the ground rod's grounding clamp for the structure's electrical system in order to tighten the wire.
Step 8 – Turn the securing screw on the grounding clamp clockwise to secure the wire in the clamp and remove any excess wire that is within one inch of the clamp to complete grounding the antenna.