If you already own a high definition television set and receiver, you can pick up HDTV signals for free with an HDTV antenna. If you live in a metropolitan area or large suburb, you will probably be able to pick up all network TV stations including ABC, NBC, CBS, Fox, and PBS with the help of an HGTV antenna. In addition, depending on the area you are from, there may be a few other HDTV channels that are available for free and easily picked up with an HDTV antenna.
An HDTV antenna is a normal TV antenna. It is important to note that an HDTV antenna allows you to pick up normal UHF and VHF channels as well as FM signals. Due to technological innovations, many newer TV antennas possess advanced features such as signal amplifiers, antenna rotators, and antenna cabling.
In order to get great HDTV reception, you should have an antenna that can trap the highest gain. Acquiring excellent HDTV reception depends on the channel that you would like to view, where the channel is broadcasted from, and where you are located.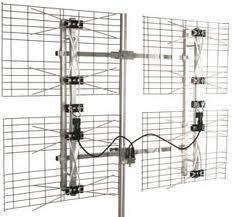 Most HDTV antennas work best by being in the line of sight of HDTV signals being broadcasted. For instance, if you live in a valley, your reception may suffer. However, if you are on the top of a hill or live near the top of an apartment building, you will probably have better reception than lower level antennas.
HDTV antennas come in various models: indoor, outdoor, and roof installed. While most antennas are affordable, roof antennas are usually the most expensive. The high cost of roof antennas may be due to their size, the price of installation gear, and installation costs. Most roof antennas will fit easily on either a flat or pitched roof. However, you might need specific fastening equipment depending on the roof type.
An antenna rotator is an accessory that is normally used with a roof HDTV antenna. These devices are small motors that can rotate the roof antenna to find the best position for receiving specific HDTV channel broadcasts. The HDTV rotator is usually controlled by an electric motor that is manually operated from inside the home. Some HDTV antenna rotators can conveniently be controlled via remote control.
If you live in an apartment or home where a roof HDTV antenna is not an option, you can choose an indoor or terrestrial HDTV antenna. These HDTV antennas are very easy to install and usually much smaller in size than their roof counterparts. Many of these antennas have amplifiers to increase the signal. Amplifiers usually kill two birds with one stone by not only amplifying the HDTV signal, but by minimizing any other signals that can distort the HDTV programming.