Programming a universal remote–be it a Sanyo or any other–requires that you have the codes that correlate the remote to all the other hardware in the room. For example, if you are going to be using the universal remote to handle the DVD player and the TV, it is important to have the codes for both those pieces of hardware that correlate specifically to the Sanyo Universal Remote.
The first step in programming the remote is to get those codes. To do it, find the model number and manufacturer's number of both the TV and the DVD player. If you were also installing a sound system, get the information for that too. Write these down on a piece of paper so that you have them to reference.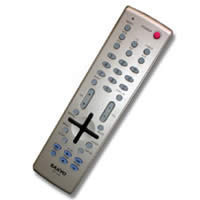 Go to the user manual that came with the universal remote and then search for each item. For example, the TV will be listed under TVs and then have the model number and manufacturer's number. Next to this information, there will be a code. The length varies, but write this down. This code is what the remote will use to connect the hardware to the remote control.
Click the setup button that is to the top left of the remote control. The light at the top will start flashing. On the top right is the TV button. Hold that down and while holding it down, punch in the code that you found. Repeat for each other piece of hardware that you have in the room. Hold the button down and then type in the code that you found in the user manual.
Once you have added each code, make sure they work. To do this, try and change channels on the TV. Try to turn the DVD player on. If all of this is working while using the Sanyo universal remote, you've successfully configured the devices in the room to the remote. If it isn't working, you might have punched in the incorrect code and will have to go back to the user manual to find a new one.