A High Definition Multimedia Interface (HDMI) signal is sent through an HDMI cable. It is designed to be used with extra high resolution video feeds coming from DVD, Bluray, etc., which are then routed to a compatible viewing screen such as a television or computer monitor. HDMI cables are capable of different speeds based on the materials used to create them.
HDMI uncompressed digital signals can be carried through a cable with resolutions of up to 1080 pixels in vertical size (which is commonly set to 1920 pixels horizontally), although there are many configurations that can be carried with the HDMI cable. If necessary, the HDMI signal can downscale to 720 pixels when connected to a television that can only handle the lower mode.
Users may need to split this signal in order to distribute it among several screens. Such setups are possible via HDMI splitters, which are commonly used in bars, electronics stores, etc.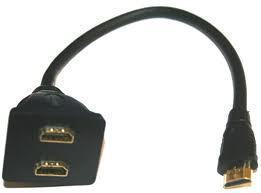 What is an HDMI Splitter?
The HDMI splitter is a specialized accessory that is used to split an HDMI signal into many, which can then be connected to multiple display devices. An HDMI cable usually has an end that goes into the device output and another end that has two or more HDMI outputs that have been split from the single line. Alternatively, hardware splitters are connected to the output device via an HDMI cable and are used with an external power source to split the signal among multiple display devices. These cables can be configured to easily split a line among four or more displays at once.
The HDMI splitter only splits the original signal, which is shown on all of the connected devices. The image that appears on all screens will be identical and cannot be independently controlled when connected to an HDMI compatible device such as HD receivers/antennas.
The HDMI splitter is not to be confused with an HDMI routing switcher. A routing switcher places multiple HDMI compatible output sources into a signal that can be changed manually or via remote control and can dictate what output reaches the display(s).
How to Choose an HDMI Splitter
HDMI splitter styles, types, and prices vary. It is important to know what the displays need in order to ensure that the HDMI splitter is capable of providing the necessary amount of data transmission for each device connected to it. Important factors are:
Refresh Rate – The display's refresh rate plays a big part in how fast the video shows when coming from the source. Keep in mind that the rate shown on the display will be the rate that the source is transmitting. If a 60Hz device is transmitting via a 120 Hz HDMI cable, only 60Hz is transmitted. If a splitter is incapable of the high frequencies needed from the source to the display, the resulting picture may not be smooth enough.
Color Depth – A key factor that determines the HDMI splitter that should be used is the amount of colors that the display device is capable of producing. The HDMI splitter must be able to match the display's color depth or dulled/mismatched colors may result. The splitter must be of high quality in order to get the best color depth.
Resolution – The output source cannot always match the display device's resolution capabilities. When possible, a higher quality cable should be used so that the display device can receive the encoding for resolutions exceeding non-digital formats.
If the HDMI splitter and cables that are used with the setup cannot transmit the appropriate amount of data, then the signal quality will be lower and a smaller resolution may be the only option available.
Fortunately, the configuration and design of many of the HDMI splitters make it possible for high quality signal to be sent to each and every output that each display device can independently control. The display device's limits determine the signal it receives. So even if the signal is 1080i/p, a device capable of only 720i/p will display the 720i/p signal through conversion.
The HDMI Splitter Type Makes a Difference
Cables – Cable splitters are designed to simply split the line by duplicating the signal with a simple enclosure through a cable. The (usually) one or two splits do not use much power, so an external power source is unnecessary.
Boxes – Box splitters are designed to provide several more display connections. The hardware for these boxes are generally small, with several output ports aligned throughout the box. The box requires an external power source to provide enough power to split the original line among all the devices that may be connected at once.
Both kinds offer different image qualities depending on the quality of the splitter itself. The materials used must render high display quality in order for each display device that is connected to experience high quality.
The Features of HDMI Splitters
Modern HDMI splitters' features vary from product to product. These are most splitters' common features:
The ability to distribute a signal through multiple outputs on DVI/HDMI displays
HDMI or DVI cables are used with splitters
No signal loss between the original output device and the display
Display devices can use the signal simultaneously
They have 480p, 720i/p, and 1080i/p resolutions
HDMI digital audio signal does not diminish with splitting
Compliance with new HDMI versions
Design and installation are simple
Cable and hardware are shielded in order to prevent damage to devices
How to Use an HDMI Splitter
An HDMI splitter is designed to effectively split any HDMI originating output signal into additional outputs that can be connected to multiple displays.
Materials Necessary to Install and Use a Splitter:
HDMI Compliant Output Source Device
HDMI Splitter or Splitter Hardware and Power Source
HDMI Cable or Alternative Data Transfer Wire and Adapters/Hardware
HDMI Compliant Displays
Using an HDMI splitter is simple and can be done through the following process:
Select a splitter with the appropriate amount of HDMI output ports. Choosing one with more ports than needed is not necessary but could be useful later on.
Prepare the splitter's storage location. Clear the HDMI feed source in order to connect the HDMI splitter. Connect the HDMI splitter to the source device. If using a box splitter that requires an external power source, connect it now. The resulting connection can accommodate multiple displays depending on the number of HDMI output ports that have been gained.
If the displays are meant to be within a few feet from each other, a normal 6-12 feet HDMI cable is suitable. Connect the HDMI cables to the splitter and connect the cables and the displays to their HDMI or DVI (with adapter) interface. If the signal is meant to travel long distances, then use an alternative option such as a premium cable. These cables are 25-50 feet long. Users may also route HDMI through existing coaxial, power lines, or CAT-5E cable for much longer distances than premium cables. These options give high quality signals when used correctly with an appropriate splitter.
Televisions, computer monitors, and other display devices must be able to receive the HDMI signal from the splitter either through HDMI or DVI interface. The HDMI signal can only be output through these interfaces even though another type of cabling can carry the data. Once all of the displays have been connected to the splitter, the source device (computer, DVR, Reviever, DVD, Bluray, Game Console, etc.) must be turned on to spread the digital signal. Each television that will be receiving the signal must also be turned on as needed.