What is VGA?
The Video Graphics Array (VGA) is a type of display hardware. The VGA connector is a 15 pin connection which relays all of the visual data to be shown to the computer screen. Each pin corresponds to a color, ground or placement information for the display. This has been in use ever since the 1990s and has improved in quality of the display as well. It is now most commonly found on most built in computer hardware accelerators, video cards as well as high definition televisions. The High Density Video Graphics Array connector or HDVGA is now one of the most common options in use today.
What is RCA?
RCA is an acronym for Radio Corporation of America. The connector was made popular from a 1940's design to allow mono phonograph players to have working connections to amplifiers for the sound. There are 3 cables which are used in an RCA connector and they are colored Yellow, Red and White. The Yellow cable is the Composite Video cable and the Red and White cables transmit Stereo Audio. The Red is for the right audio channel and white is for the left audio channel. It is a much older technology used most commonly by television sets in the 1990s into the early 2000's. Many different video hardware options today still have the standard RCA connector options available which can be used with older video technologies.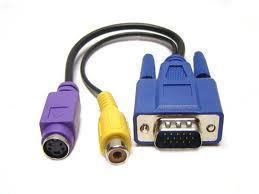 Using a VGA to RCA Converter
The need to use a VGA to RCA converter may vary from case to case but it is important to have a reliable option towards converting these very different types of video signals between each other. There are cable connectors which offer one side as a VGA/HDVGA connector and the other as an RCA connector. This can be used for many different reasons. Connecting two compatible devices is important because one device must transmit and one must receive. If both are transmitting, then no video will show while if both are receiving, the same will occur. The four most common uses for a VGA to RCA converter follow:
Computer to Television connection – Many computers look great with a standard monitor but some monitors are limited to their size. A television could be useful as a larger monitor or as a backup display for presentations. Computer to television connections use the VGA side to connect to a PC or Notebook with a VGA out connection and use the RCA to output towards the television. This may have limited resolution options for the video output.
HD Television Conversion – Many HD televisions are now coming without the older RCA connector cables. Having a VGA to RCA converter allows you to connect older devices to newer televisions. This is helpful for connecting VCRs as well as other options such as older video game consoles to the newer televisions. This is important for retroactive connections to the television set.
Projector Connection – Many newer high end projectors no longer come with RCA connection options you can use a VGA to RCA converter to fix this problem. Older projectors do not have VGA connectors and could easily use the VGA to RCA converter to do the same to enable VGA input to the projectors.
Video Game to PC Monitor Connection – Many video game consoles look great on PC monitors. This is perfect for dorm rooms with limited space to allow for more available connections to their monitors. The VGA to RCA converters allow for higher quality video from the game console to be inputted into the computer monitor. It works with both traditional CRT (Cathode Ray Tube) monitors and LCD (Liquid Crystal Display) monitors.
Multi Video Converter Options
There are also video converter cables with multiple input/output options. Some even function as specialized switches which provide the ability for several devices to be connected at once which can easily be switched between by the push of a button. Many of these options have VGA, RCA, HDMI, Mini-phone Stereo, S-Video and other alternatives. They can come in either male or female versions to assist in the convertibility between video and audio devices.