Nowadays, most consumer electronic devices support the HDMI (High Definition Multimedia Interface) output for video and image downloads. Before HDMI became popular in the electronic industry, RCA connectors (yellow, white, and red cables) were primarily used to connect DVD players, video game consoles, and set top boxes to televisions or monitors. A common issue for consumers is converting their HDMI devices to RCA cable inputs in order for them to play on older television sets or monitors.
How to Convert HDMI to RCA
Step 1 – Search for an HDMI to RCA converter at a local electronics store or online. The output that the HDMI format will be converted to will determine the type of converter needed. The more complex converters will have outputs for S Video, Composite, as well as the classic RCA video and audio output cables from the device.
Step 2 – Connect the video converter to a power source (such as a wall socket or power strip).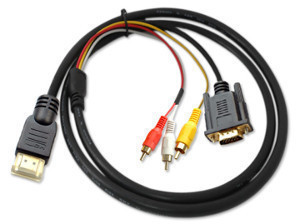 Step 3 – Connect the HDMI cable from the device that only produces HDMI output to the HDMI input plug on the converter.
Step 4 – Connect the Red and White audio cables to the RCA audio outputs on the converter then connect to the television.
Step 5 – Connect the Yellow video cable from the video converter output to the tv's video input.
Step 6 – Change the television channel to the one that the converter requires (normally channel 3 or 4 for televisions that do not support the "input" function) or press the "Input" button on the remote control (if supported) to view the video from the device on the television.