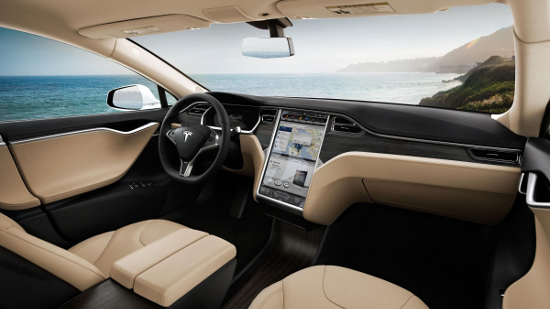 2. The Cars: Built for The Future
When you look into Tesla cars it's hard not to come off feeling like you've got a taste of the future, something you'd see in science fiction. It's not just that they're all electric, which in itself is futuristic, but everything else about them.
The design is a balance of beautiful and futuristic yet not overstated. The details such as retracting handles, the keychain remote, the huge touch screen that gives you a huge amount of control, smartphone app that shows battery status and controls some car's functions, the amount of storage space, and the ability to customize it before ordering all accumulate to give it a unique edge.
Then there's the way it feels when you drive it. It's quite unlike anything you've experienced before. The low center of gravity makes it really stable. It's acceleration pumps up the adrenaline and makes you feel like you're about to lift off like an airplane. The quietnesss of its engine, which is actually completely silent, allows you to experience the environment you're driving through a lot more.
And of course, going back to the fact it's all electric means that you can plug it in and charge it anywhere, that it's got no mini explosions going on less than a meter of your body like in combustion engines, that energy that powers it can come from many sources different sources making it future proof, and so on.
If you're gonna take over the future this is the way to do it. This car feels like the future for more reasons than just being all-electric.