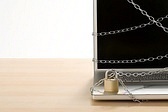 More consumers are purchasing laptops for personal and business use. Unfortunately, the number of stolen laptops has increased with this rise in laptop purchases. Most consumers do not plan for the possibility of being robbed, and lose a significant amount of personal and sensitive data as a result. The police never find many of these stolen computers. The open source Prey Project provides both free and low cost options for retrieving a stolen computer and supports the Windows, Linux, and OS X operating systems (OSs). Other commercially based stolen laptop tracking applications work similar to Prey, but just cost more money on a monthly subscription basis.
How to Track a Stolen Laptop with Prey Project
Step 1 – Create a guest account on the computer to encourage the laptop thief to use the computer.
Step 2 – On computers running the Windows OS, select the "Start" menu, click "Control Panel," then choose the menu option to "Add a new user" in Windows 7 in order to do this.
Step 3 – Leave the password blank for the new user or make it a simple one such as "password" with a login of "guest."
Step 4 – Download the free Prey application on the computer from the Prey Project website.
Step 5 – After the download is complete, double click the installer and choose the default menu options to complete the installation.
Step 6 – Select the "Configure Prey Now" menu option after the installation concludes. Choose the "Online Control Panel" or set up the program in stand alone mode.
Step 7 – Create a Prey account and then tell the application to automatically connect to WiFi hotspots to aid in reports being collected and sent in the event of laptop theft.
Step 8 – Test the Prey installation by logging into the control panel from another computer.
Step 9 – Toggle the "missing" icon on the control panel in order to trigger the application to send reports the next time the stolen laptop is connected to the Internet. The free version of Prey only keeps 10 reports online at a time, which provides geo-location and networking information for the police. The application also tracks the programs the thief uses on the computer, any web cam activity, and images that can be given to the police to help track down the stolen laptop.