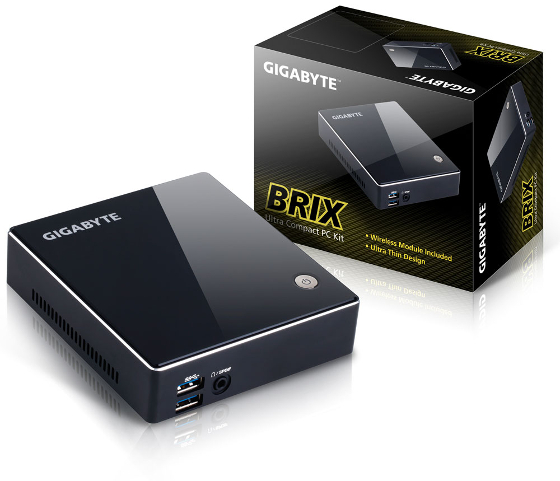 Still need a PC? Well it doesn't have to be a big bulky box under your desk anymore. It can be a size of a small brick instead and still pack a punch. Gigabyte BRIX II is a full fledged PC in a tiny box, tinier than the Mac Mini if you're wondering. It includes the latest generation of Intel processors, either i3, i5 or i7, and 4 USB 3.0 ports, one HDMI port, one Mini DisplayPort, a LAN port, and a headphones/SPDIF port. It also supports mSATA SSD drives and SO-DIMM DDR3 memory.
There is one tiny catch though. This is a PC kit, so it doesn't come with everything. You'll need to get and insert three things yourself before you can start using it: an mSATA drive, some SO-DIMM DDR3 memory, and install an operating system.
Depending on who you are this could be a bad thing or an awesome thing. Why awesome? Because you get to pick and choose an SSD drive and memory, as well as an operating system, yourself! This gives you a bit of flexibility in terms of what the final price of your mini PC will end up being. It's a bad thing only if you don't want to or don't know how to buy the right drive and memory, and connect it inside (it really isn't complicated, but it's understandably also not for everyone).
Still, for a price that ranges from around $400 to $600, and considering the tiny size, this little PC does pack a punch. It can also allegedly double as a Steambox.
There are alternatives though, most popular of which appears to be the Intel's latest NUC.