ESN (Electronic Serial Number)
An Electronic Serial Number is a code created to identify mobile devices.
An ESN is 32 bits long, and the distribution of information in those bits has changed as the standard has evolved.
The first 8 bits originally represented the manufacturer code, leaving 24 bits for the manufacturer to assign codes to mobile devices. This system allowed for up to 256 manufacturers and up to 16,777,215 unique codes for each manufacturer's mobile devices.
To allow for more manufacturers, the manufacturer code was extended to 14 bits, leaving 18 bits for the individual mobile device codes. With this system, the manufacturer could only assign up to 262,144 codes.
Electronic Serial Numbers are most commonly represented using either 11-digit decimal numbers or 8-digit hexadecimal numbers, an example of which is shown below: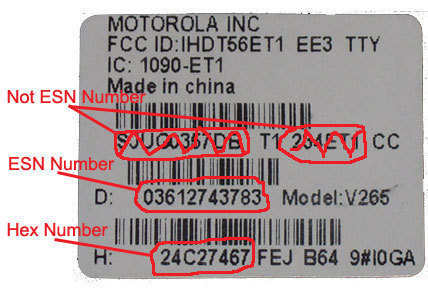 Background and Regulation of Electronic Serial Numbers
The ESN was created by the United States Federal Communications Commission in the early 1980s, and originally used for the very first analog mobile phone technology, the AMPS.
Administration was afterward taken over by the Telecommunications Industry Association in 1997, and the TIA still manages and coordinates ESN distribution.
Applications of the ESN System
The ESN is particularly useful for identifying stolen cellular phones even if the SIM card is changed.

An ESN can also be used to prove that a certain mobile device was used to make or receive a call.

Other key uses include manufacturer tracking for inventory and warranty claims.