MiFi stands for "My Wi-Fi" or "Mobile Wi-Fi", and represents a line of relatively small wireless routers developed by Novatel Wireless, which turn a mobile broadband internet connection into a Wi-Fi hotspot. These hotspots support up to 5 Wi-Fi enabled devices within a range of 10 meters. This means that any Wi-Fi enabled device, from smartphones and tablets to notebooks and game consoles, could connect to the internet through a MiFi.
Like mobile broadband USB dongles MiFi routers are sold with a contract or on a pay-as-you-go basis.
As such MiFi is most advantageous in areas where there is no Wi-Fi, but there is mobile broadband coverage, if you want to connect a device that can't connect to 3G directly (such as most notebooks, desktops, and some tablets). For instance, if you have a Wi-Fi only iPad and a MiFi in an area without Wi-Fi you could still connect your iPad to the internet through the MiFi router.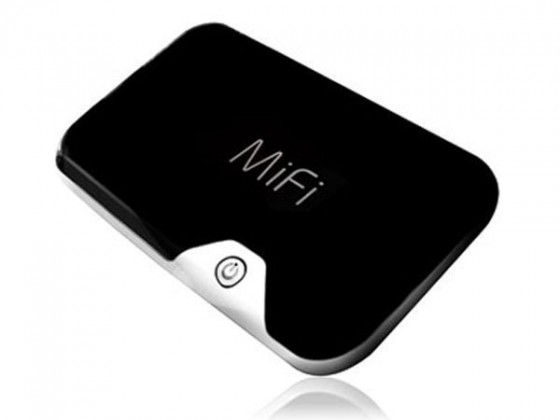 A MiFi device is typically the size of a credit card (albeit thicker), and operates off of a battery so it doesn't have to be kept plugged into a power outlet except to charge. Since it uses mobile broadband for internet access it doesn't need to be plugged into a phone line either.
It's worth noting that not all MiFi devices are produced by Novatel. Other manufacturers of similar devices include Huawei, NetComm, Option, Sierra Wireless, and D-Link.
How does a MiFi work?
MiFi connects to a mobile broadband network of a given carrier (such as Sprint or Verizon in the US), and creates its own wireless network, acting as a Wi-Fi hotspot. Any Wi-Fi capable device in the range of 10 meters can then detect this hotspot like any other normal Wi-Fi hotspot and connect to it. In a nutshell, the MiFi works much like a typical wireless router at home except it wirelessly connects to mobile broadband instead of having to be plugged into a phone line to get to the internet.
How fast is MiFi?
The speed of the internet connection through a MiFi depends on the speed of the mobile broadband connection it uses. So on 3G mobile broadband the connection speed will be up to 21 Mbit/s, and on 4G, if MiFi supports it, the speed will go up to 100 Mbit/s.
MiFi Features
Typical MiFi features, in addition to the basic functionality outlined above, includes:
Remote management.
Applications support.
EV-DO/UMTS/HSDPA 3G support, WiMAX 4G, or LTE 4G support.
Battery lasts up to 4 hours of active use, 40 hours of standby time.
Configurable for automatic email synchronization and for VPN connection.
Other features may include built-in storage or a Micro SD card slot, a DLNA server, data usage tracking, SMS support, GPS, weather data etc.
Smartphone as a Wi-Fi Hotspot
A convenient alternative to a dedicated MiFi router could be a smartphone capable of turning its mobile broadband connection into a Wi-Fi hotspot. Smartphones with Android 2.2 or later, as well as iPhone 3GS, iPhone 4, and iPhone 4S support this functionality, among others. Keep in mind, however, that turning a Wi-Fi hotspot on your smartphone will drain its battery much more rapidly.