A WiFi antenna is a device that sends and or receives radio signals that computers and other electronic devices use to facilitate wireless communication with each other. While WiFi antennas have many uses, they are most commonly found in or on wireless routers. A wireless router is a device that creates a wireless computer network for all computers and devices within its range and requires a WiFi antenna to transfer data between a modem and other devices within the network. WiFi antennas come in many different shapes, sizes, and designs. Several commercial and homemade WiFi antennas are listed below.
Cradlepoint UNOTPM5103 External WiFi Antenna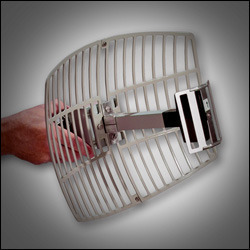 The Cradlepoint UNOTPM5103 External WiFi Antenna consists of two external antennas that connect to the router via a USB cable. The Cradlepoint UNOTPM5103 is designed to provide the user with maximum range while taking up a minimal amount of space. The antenna also includes all mounting equipment necessary to install it on virtually any desk, wall, or countertop. Unfortunately, the Cradlepoint UNOTPM5103 External WiFi Antenna is made specifically for the Cradlepoint MB1200 wireless router and will not work with any other device. This antenna does, however, serve as an example of a dual-lead external WiFi antenna.

Hawking HAI7SIP 7dBi High-Gain WiFi Antenna
The Hawking HAI7SIP 7dBi Hi-Gain WiFi Antenna from Hawking Technologies is specifically designed to expand the range of the user's wireless router or access point. The antenna accomplishes this by providing 7 dBi of signal strength while the standard market signal strength for WiFi antennas is only 2 dBi. This means that the antenna's range is more than three times that of a standard WiFi antenna. The Hawking HAI7SIP is an external antenna and consists of gold-plated connectors that allow a permanent transfer of power, resulting in a permanent connection between the wireless router and all other devices within the network.
Hawking HWUG1 Wireless-G 108 Mbps USB Adapter with High Gain Antenna
The Hawking HWUG1 Wireless-G 108 Mbps USB Adapter with High Gain Antenna is another device from Hawking Technologies and is a powerful wireless adapter for desktop computers. A wireless adapter connects to the user's computer via a USB port and is responsible for receiving signals from a wireless router or access point. The Hawking HWUG1 includes WEP, WPA, and AES data encryption, is exchangeable with other external WiFi antennas, and allows data transfer rates of up to 108 Mbps with the Hawking HWRGM1A Mimo Router.
Cantenna
A Cantenna is an extremely simple design for a homemade WiFi antenna that consists of a metal can, a metal dipole, and a wire. The dipole is inserted through the side of the can on one end so that the tip reaches the center of the bottom of the can. The wire is then attached to the end of the dipole outside of the can and fixed to the user's wireless card or access point. The Cantenna uses linear polarization so the user will need to experiment with the Cantenna's positioning in order to achieve the most reliable connection.