Wireless Internet has numerous advantages, but there are also certain limitations. For example,  your computer has to be within the range of wireless broadcasters like routers and WiFi hotspots. Sometimes your computer may be in the range of one of these broadcasters, known as "wireless access points", but it may not be getting much of a signal which leads to slow Internet access. The key to making your wireless Internet faster is to improve the strength of the signal your laptop is receiving. Let us see how wireless Internet works and learn more about devices that are made to increase your wireless Internet signal strength and make your wireless Internet faster.
How Wireless Internet Works
Wireless Internet works by using a network of various devices that interact with each other to make an Internet connection. A modem is needed to connect to a telephone line in which Internet access has been activated by the Internet Service Provider. The modem is then connected to a router that broadcasts a wireless signal. The signal is then picked up by the network adapter or network interface card that is built into your laptop computer. Likewise, your network adapter can broadcast a signal to send information to other devices. The problem is that these devices must be in range of each other in order to communicate. Some devices are made to only broadcast or receive up to a specific distance, depending on the device's capabilities. With any one of the following devices, you should be able to significantly increase your computer's signal strength and make your wireless Internet faster.
Hawking HAI15SC Hi-Gain Wireless Corner Antenna
The Hawking HAI15SC Hi-Gain Wireless Corner Antenna can be plugged into your router and serve as a strong replacement to your normal wireless access point. Once the device is installed, all you have to do is point the antennas to the spot where you need strong wireless Internet. The device is powerful and broadcasts a signal strong enough to cover every inch of your home, office, or conference hall.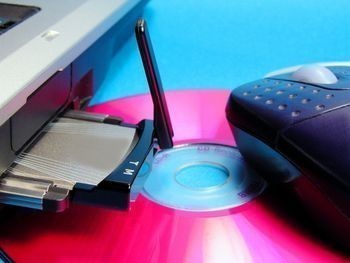 Linksys Wireless-G Range Expander
The Linksys Wireless-G Range Expander is different from most signal boosters simply because it does not need to be connected to a cable. To use the Linksys Wireless-G Range Expander, simply place it in the range of your router or a near the WiFi hotspot and the device will pick up the signal and rebroadcast it. If you have a large home or office building, the Linksys Wireless-G Range Expander will allow you to double or even triple the distance at which your computer can pick up the signal.
Luxul Outdoor Wi-Fi Signal Booster
The Luxul Outdoor Wi-Fi Signal Booster connects to a landline coaxial cable outside of your home or office, preferably somewhere near your router, and increases your signal strength by over 400%. This device is ideal for hotels that offer WiFi.
Xterasys Hi-Gain Wifi MIMO Signal Booster
The Xterasys Hi-Gain Wifi MIMO Signal Booster looks like an old-fashioned answering machine but it delivers amazing signal improvement. The device comes with four built-in antennas that work simultaneously to increase the distance and strength of wireless Internet signal. The Xterasys Hi-Gain Wifi MIMO Signal Booster can also increase your computer's battery life as your laptop does not have to strain as hard to pick up the signal.
Wireless Garden Super Cantenna
The Wireless Garden Super Cantenna is a rather large device made of a long canister that sits on top of a small tripod. The device is capable of both transmitting and receiving wireless signals which gives you a number of options. For example, you can plug the device into your computer through the USB adapter or WiFi card and communicate with your own router or your neighbors' routers by pointing the device in different directions. Alternatively, you can connect the device to your own router and point it in the direction where you computer is. This allows you to enjoy faster wireless Internet without having to keep the device plugged into your laptop.
Better WiFi Range Wireless Internet Booster X10
The Wireless Internet Booster sold at BetterWiFiRange.com is a small device that plugs directly into your computer and serves as an antenna that increases your wireless signal. Dozens of customers claim that their signal strength went from one or two bars to a full five bars immediately after using the device. The Wireless Internet Booster not only improves the signal strength but also ensures that your signal is never interrupted.