As technology has advanced, devices have become more complex and integrated. Access points make a good example of such devices. These can be described as hardware that includes a modem, router, and other optional functions that are all compiled into one device. Access points are becoming more popular than modems or routers and they are common in medium and large businesses. This article will explain what an access point is, how to create or setup an access point, and describe some of the most popular access points available on the market.
What is an Access Point
An access point is a device that combines a modem and router together and may also include a firewall, VoIP technology, or similar networking features. In fact, modern access points often include multiple antennas, powerful encryption protocols and high connection speeds. Access points save space and they are often cheaper than purchasing a modem and router individually. With an access point, a network connection is established as soon as a cable or DSL wire is connected to the device. An access point can sometimes refer to the router itself but this is not very common.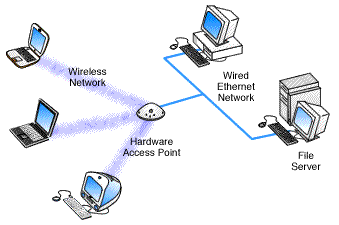 How To Setup An Access Point
Access points are usually very easy to setup, even for the most inexperienced computer users. An access point relies mostly on plug-and-play technology that allows the user to simply connect a cable or DSL wire to the device and plug it into a power supply to create a connection. Depending on the access point that the user purchases, there may be software that needs to be installed on the user's computer in order to configure the device. This software usually comes with the device on a CD or DVD with step-by-step instructions.
Linksys Wireless-G Access Point
The Linksys Wireless-G Access Point produces a network connection speed of 54 mbps. It is compatible with Wireless-B devices. The device features two external antennas, an easy setup wizard, one Ethernet port, and three encryption algorithms that include 128-bit WEP, 64-bit WEP, 256-bit WPA. The Linksys Wireless-G Access Point can be accessed through a browser by using the specified IP address. This will take the user to a control panel that allows him/her to configure or modify the settings of the access point or the computers that connect to it. The device weighs 1.1 pounds, comes with a three year warranty, at the price of $49.
Cisco Small Business WAP4410N
The Cisco Small Business WAP4410N is a wireless access point that includes three external antennas for the maximum range. The device uses the latest 802.11n technology to provide users with instant, reliable Internet access and it is backwards-compatible with both 802.11b and 802.11g wireless devices. The Cisco Small Business WAP4410N uses Power-Over-Ethernet technology and it does not even need its own power supply. This means that the access point can be installed anywhere. Data security and quality features allow voice and video to be transferred back and forth over the network without delay. VoIP and other communication software can easily be used with the access point.