Netopia is a popular broadband product company that produces Internet routers and other WiFi devices. Motorola acquired the company in 2007 and made partnerships with wireless providers around the world. Such providers include AT&T, Swisscom, and NextGen Tel in Norway.
Unlike other router brands, Netopia's default password is the 6 digit serial number located on its rear panel. If you have changed the password, but you want to restore the default password, you can reset the Netopia router to the factory settings and have the default password again.
How to Reset the Netopia Router
Step 1 – Make sure the router is turned on and plugged in.
Step 2 – Turn the router so that you can see the LED lights and find the small slot underneath the router.
Step 3 – Insert a paper clip into the slot until a clicking sound comes from the device.
Step 4 – The router will reboot and the LED lights will cycle until the booting sequence is complete.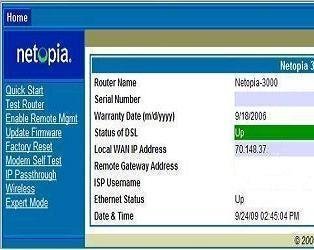 Step 5 – Enter the Netopia IP address in the web browser, it is 192.168.1.1.
Step 6 – Enter the serial number you see on the router's rear panel as the default password to access the router.
Netopia R7100 Default Password
Netopia's R7100 router has a different default admin password than the company's newer router models. The R7100's default password is admin which is also the default login name.
Netopia Router Tips
Netopia recommends that the default password is changed to a unique entry that is easy to remember in order to prevent unauthorized use or modification of the router settings.
The Netopia router should be kept in a secure location to prevent unauthorized persons from making any changes and using the device.