Owning a Blackberry enables its owners to do much more than they could ever accomplish with a basic cell phone. However, one of the most popular features that have carried over from basic cell phone to the BlackBerry is the ability to add ring tones. In earlier models adding ring tones to your Blackberry was quite difficult or not available, however today, if you operate a BlackBerry or later model that uses 4.1 operating system, adding MP3 ring tones is quite simple, here are some tips.
1. Start Up Your BlackBerry
Make sure that your BlackBerry model is at least an 8700 model or later and confirm that your operating system is either 1.0 or later.
2. Open your BlackBerry Browser
One of the simplest ways to add ringtones to your BlackBerry is to download them directly off the internet. In order to do so, you will need to open your BlackBerry web browser and type in the web address of a ringtone provider. Below is a short list of available ringtone providers:
It should be noted that some of the above BlackBerry ringtone sites offer free ringtones, while others charge a fee.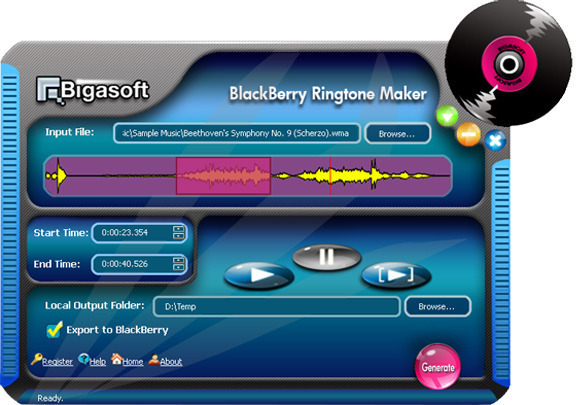 3. Select Ringtones from Your Provider
Once at the ringtone provider site of your choice, you can easily navigate the site and choose the ringtones that you would like to download. Usually, you will just need to download the file to one of your BlackBerry folders for the ringtone to be transferred.
4. Enable Your New Ringtone on your BlackBerry Device
Once the ringtone has been downloaded to your folder on your BlackBerry, log out of your web browser and navigate to Profiles. Under Profiles, you can choose Normal and then choose Phone (choosing phone will change the ringtone for this function; you can choose to have the ringtone for other functions as well). Once you have chosen your function (in this case phone), you can now select Tune. Once Tune is selected, a drop down menu of the available ringtones will be seen in your menu. Simply pick the ringtone file you would like. Your new ringtone is now activated.
Transferring Your Own Ringtone to Your BlackBerry Device
For those that already have ringtones on their PC that they would like to transfer to their BlackBerry, you can easily transfer these ringtones in a few easy steps. Before you start, there are a few things to consider:
– Make sure the ringtone file is smaller than 500K
– You will need a web host to load your ringtone files onto your BlackBerry (this will enable you to download the file directly to your BlackBerry device). You can use your FTP server, Google Gmail account, or use some of the free sites such as www.rumkin.com or www.tunesusin.com.
Upload your ringtone file to your web host of choice.
Once your ringtone is uploaded, launch your BlackBerry browser and enter the web address where your ringtone is located.
Using your BlackBerry device, select the ringtone and download it to your BlackBerry.
Enable your new ringtone by logging out of your browser and selecting Profiles. Once in Profiles choose Phone (phone being the function you want the new ringtone to coincide with). Now select Tune, as Tune is selected, you should see a drop down menu with the available ringtones including your newly downloaded ringtone. Simply select the new ringtone – your new ringtone is now activated.