GSM (Global System for Mobile Communications)
GSM (Global System for Mobile communication) is a digital mobile telephone system that is widely used in Europe and other parts of the world. GSM uses a variation of Time Division Multiple Access (TDMA) and is the most widely used of the three digital wireless telephone technologies (TDMA, GSM, and CDMA). GSM digitizes and compresses data, then sends it down a channel with two other streams of user data, each in its own time slot. It operates at either the 900 MHz or 1,800 MHz frequency band.
GSM is the de facto wireless telephone standard in Europe. GSM has over one billion users worldwide and is available in 190 countries. Since many GSM network operators have roaming agreements with foreign operators, users can often continue to use their mobile phones when they travel to other countries.
| | |
| --- | --- |
| Mobile Frequency Range | Rx: 925-960; Tx: 880-915 |
| Multiple Access Method | TDMA/FDM |
| Duplex Method | FDD |
| Number of Channels | 124 (8 users per channel) |
| Channel Spacing | 200kHz |
| Modulation | GMSK (0.3 Gaussian Filter) |
| Channel Bit Rate | 270.833Kb |
The Future of GSM
GSM together with other technologies is part of an evolution of wireless mobile telecommunication that includes High-Speed Circuit-Switched Data (HSCSD), General Packet Radio System (GPRS), Enhanced Data rate for GSM Evolution (EDGE), and Universal Mobile Telecommunications Service (UMTS).
GSM Network Operators
T-Mobile and Cingular operate GSM networks in the United States on the 1,900 MHz band. GSM networks in other countries operate at 900, 1,800, or 1,900 Mhz.
GSM Security
GSM security issues such as theft of service, privacy, and legal interception continue to raise significant interest in the GSM community. For information on GSM security, visit the GSM Security portal.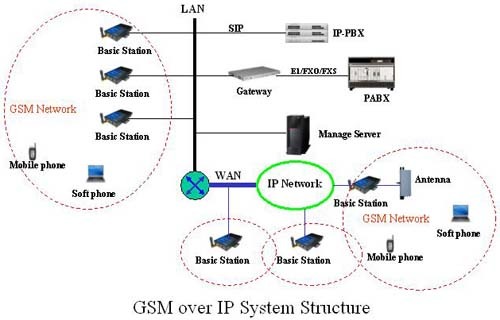 Books on GSM
The digital standard known as the Global System for Mobile (GSM) has captured a large share of the global cellular market. This book aims to bridge the gap between a reader's basic knowledge of telecommunications and the complexities of the 5000 page GSM technical specification. It describes the system as a whole, covering all aspects of the standard, including mobile stations, switching equipment, the radio interface, infrastructure, transmission methods, and signaling protocols. System architects involved in the design of personal communications systems will find the book to be a complete description of the GSM communications system. It also may serve as a general introduction to digital cellular systems.
Introduction to GSM: Physical Channels, Logical Channels, Network, and Operation explains the basic components, technologies used, and operation of GSM systems. Readers will discover why mobile telephone service providers have upgraded from 1st generation analog systems to more efficient and feature rich 2nd generation GSM systems. They will also discover how 2nd generation systems are gradually evolving into 3rd generation broadband multimedia systems.
This book starts with the system components and basic services that the GSM system can provide. Readers will learn that the key types of GSM devices include single mode and dual mode mobile telephones, wireless PCMCIA cards, embedded radio modules, and external radio modems. They will then discover the different types of available services such as voice services, data services, group call, and messaging services.
Explained are the GSM system's physical and logical radio channel structures along with the basic frame and slot structures.
Described are the fundamental capabilities and operation of the GSM radio channel including channel coding, modulation types, speech coding, RF power control, and mobile assisted handover. Readers will learn how each GSM radio channels has 8 time slots per frame and that some of these are used for signaling (control channels) and others are used for user traffic (voice and data). Because the needs of voice and data communication are different, readers will discover that the GSM system essentially separates circuit switched (primarily voice) and packet switched (primarily data) services.
Described are key functional sections of a GSM network and how they communicate with each other. Readers will learn how and why GSM is evolving into 3rd generation broadband systems including GPRS, EDGE, and WCDMA. GSM provides a service to more than 500 million users throughout 168 countries worldwide. It is the world market leader serving 69 0f all mobile digital users and is currently evolving into UMTS (Universal Mobile Telecommunication System).
By describing the critical decisions and the phases of the development, this key text explains how the GSM initiative became a success in Europe and how it evolved to the global mobile communication system. Initially, the strategy and technical specifications were agreed for Europe and the subsequent evolution to a global solution was achieved by incorporating all non-European requirements and by inviting all committed parties worldwide to participate. The process started in 1982 and the first GSM networks went into commercial service in 1992. The first UMTS networks are expected in 2002 and the fourth generation discussions have begun.
Presents a complete technical history of the development of GSM and the early evolution to UMTS.
Clarifies the creation of the initial GSM second generation system in CEPT GSM, the evolution to a generation 2.5 system in ETSI SMG, and the evolution to the Third Generation (UMTS) in ETSI SMG and 3GPP.
Covers all of the services and system features together with the working methods and organizational aspects.
GSM and UMTS provides an interesting and informative read and will appeal to everyone involved in the mobile communications market needing to know how GSM and UMTS technologies evolved.
The accompanying CD-ROM provides nearly 500 reference documents including reports of all standardization plenary meetings, strategy documents, key decisions, the GSM Memorandum of Understanding, and the report of the UMTS Task Force.
GSM (Global System for Mobile Communications)

,