A computer case, also termed as computer chassis or cabinet, is a small enclosure or box into which all the major computer components and peripherals are fitted. Computer cases can be broadly classified into 2 different categories. Each of them is briefly discussed below.
Desktop Case: Considered the most classical version of computer cases, these are primarily designed for personal/business computers that are placed on top of a desk. The basic objective of these cases is to conserve the available desk space as the monitor is placed on top of the computer. Interestingly, it is beneficial for the users when a computer is placed in this position because it enables the computer screen to be present at an angle that is most convenient for viewing. Also, viewers can easily avoid sitting in uneven postures, thereby reducing instances of back pain and other related ailments. Another advantage of using a desktop case is that it is simple and compact. However, desktop cases might cause a real inconvenience in certain instances as they are really difficult to upgrade. Also, they cannot be kept on the floor.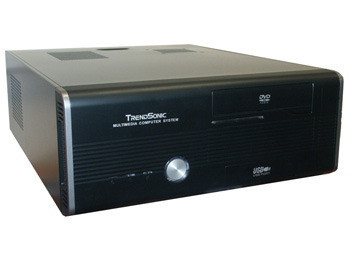 One alternative is a slimline desktop case typically used for designing workstations. This type of case is ideal for computers with a dedicated use and require no upgrading. Also, these cases are convenient in offices or locations that have space limitations.
Tower Cases: These cases are used in the manufacture of computers that can be kept on the floor or on top of a computer desk. Depending on the specific number of internal drive bays present inside and the height of the tower, these cases can be further classified into mini-size, mid-size, and full-size tower cases.
Mini-sized Tower Cases: These cases are slightly bigger than the desktop cases and usually have 3 internal drive bays. Expandability is again a problem with these cases. Mini-cases normally stand at a height of 12-18inches.
Mid-sized Tower Cases: These cases are bigger than mini-towers and can be placed either below or above the computer desk without much inconvenience. In fact, mid-tower cases are the most widely used computer cases worldwide. They usually contain 4 internal drive ways and a similar number of external bays. These cases can be easily expanded or upgraded to higher versions depending on the need and requirement. Interestingly, these cases are ideally suitable for any type of computer irrespective of whether it is a simple, business, or any advanced system. The normal height of a mid-size tower is 24inches.
Full-sized Tower Cases: These cases are commonly employed in the design of servers, mainframes, and advanced workstations that can handle multiple applications. Full-sized cases are generally huge with a height that is equal to or more than 30 inches. The number of internal drive bays inside these cases can be anywhere between 6 and 10. Also, these cases contain a similar number of externally accessible drive bays. Additionally, a great amount of space is present inside these cases and can be used for placing any number of hard drives, CD ROMs, and PCI cards.