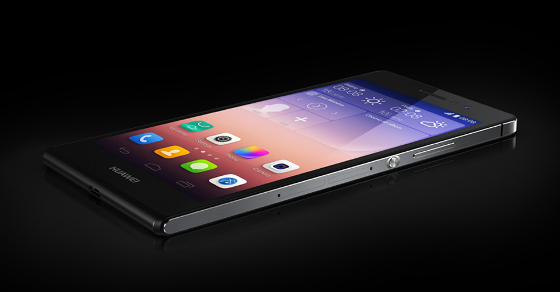 Other
There are a few more notable options to keep in mind like Huawei Ascend P7 (pictured above) and ZTE Grand S, which go for a fair bit more than $500. And then there are much cheaper smartphones that do compromise a bit in their specifications such as the fully unlocked BQ Aquarius 5 (which may come with Ubuntu Phone by the end of 2014), and various Firefox OS devices.
Another thing to note is that the availability of the above phones may vary depending on your location, but chances are that with at least a few of them you may be in luck.
If you're worried that distant and not so well known brands that sell for a lower price must mean a lower quality that's not necessarily true, for multiple reasons. Some of these brands may in fact be quite well known and established for quality in certain countries or regions. The fact that they aren't so well known in your country does not necessarily imply bad quality.
Secondly, lower price does not always translate to cheapskating on quality as realistic pricing to some extent depends on various factors relating to the manufacturing process, and they also depend on the margins. Apple phones are more expensive despite the fact that their manufacturing process is pretty efficient, but their margins are also known to be pretty high. In other words, it is quite possible to offer smartphones at lower prices without sacrificing on quality.
Ultimately, it is a good idea to check the reviews before making a purchase, which holds true as much for these phones as it does for the well known top brands. When independent reviews consistently confirm good quality you can be pretty safe in assuming that the quality will be on par for what you get if you go for more well known brands, so why pay more if you can get something as good if not even better for less?
Pages:
1
2
3
4
5
6
7