IS-95 is a standard for CDMA (Code Division Multiple Access) Digital Cellular.
| | |
| --- | --- |
| Mobile Frequency Range | Rx: 869-894; Tx: 824-849 |
| Multiple Access Method | CDMA/FDM |
| Duplex Method | FDD |
| Number of Channels | 20 (798 users per channel) |
| Channel Spacing | 1250kHz |
| Modulation | QPSK/OQPSK |
| Channel Bit Rate | 1.2288Mb |
How CDMA Works
In a CDMA system, your encoded voice is digitized and divided into packets. These packets are tagged with "codes." The packets then mix with all of the other packets of traffic in the local CDMA network as they are routed towards their destination. The receiving system only accepts the packets with the codes destined for it.
CDMA vs. TDMA
The CDMA technology used in IS-95 is in technical competition with the TDMA (Time Division Multiple Access) technology used in GSM.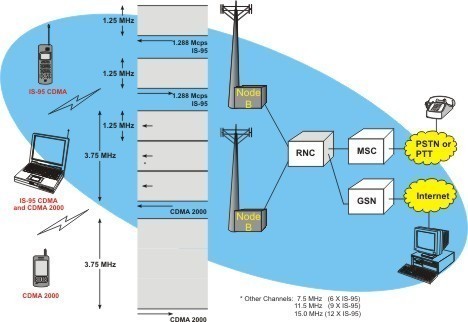 IS-95 by Any Other Name
IS-95 is also known as TIA-EIA-95.
The original IS-95 CDMA specification is now referred to as cdmaOne.
Newer CDMA Standards
Newer CDMA standards include cdma2000, CDMA 1X EV, CDMA 1XEV-DO, CDMA MC 3X, WCDMA and TD-SCDMA.
CDMA-2000 1xRTT is a recent standard for data networking over CDMA-2000 networks.
CDMA Network Operators
ALLTEL, Verizon Wireless, US Cellular, and Qwest communications operate CDMA networks within the United States. Worldwide, there are over 60 million users of IS-95 and other CDMA networks.
Additional Reading on CDMA
For more information on CDMA, visit the CDMA Development Group.