Recently, there has been a surge of very cheap Microsoft Windows 10 license keys on eBay, Amazon and other online stores. Everyone wonders, do these keys work and are those legit? The answer is, they do work, but are not the legitimate Windows license keys. These license keys are exploiting Microsoft licensing rules, and are sort of piracy.
We are not lawyers and this text isn't legal advice on Windows 10 product licensing.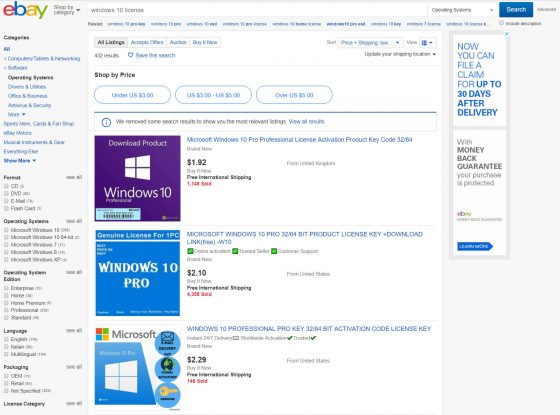 For the purpose of this article we downloaded Windows 10 from Microsoft website, installed it on two machines and went straight to eBay where we bought two Windows 10 Professional licenses from two random sellers.

Keys arrived via eBay message system within two hours. We went to Settings -> Update & Security -> Activation – > Enter Product Key and copy/pasted our Windows 10 Professional license keys there.
After a couple of seconds, Windows 10 connected to Microsoft servers and verified our keys as valid and voilà – Windows was activated for less than $5, quite different from $90 which is what Microsoft sells it for.
Both machines were activated and working…
So, one would say this system works, but legality of the licenses is questionable.
To find more about what licenses we've got and how these guys can sell it for so cheap, we tried digging into Microsoft licensing system.
As it is known, Microsoft has three types of license for Windows 10 Pro systems:
Retail license
This is the license and a key for Windows 10, which you get when you buy it directly from Microsoft store or any other software retail store.
OEM license
This is the license Microsoft gives to hardware manufacturers. Basically, they build machines with preinstalled and activated Windows 10 copies. Key is tied up with the given machine and cannot be moved or transferred to another machine.
Volume Licensing (MAK/KMS)
Large companies and enterprises can decide to buy Volume licensing keys from Microsoft. Those are the keys sold in bulk for the need of the company. MAK version of the keys can be used only once, while KMS can be used multiple times.
Further, we opened command prompt in Windows 10 and entered following command:
slmgr -dli
After pressing "Enter" we got the following message: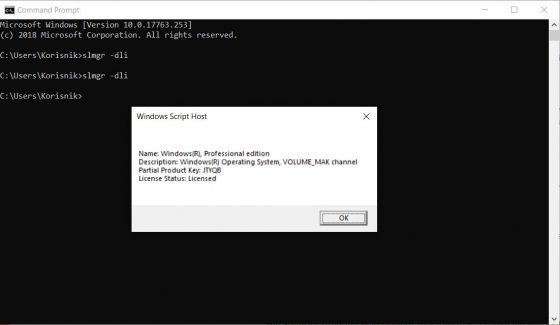 As you can see, the first key we bought is obviously Volume licensing (MAK) key which means it can only be used once (eBay seller stated the same thing). The real problem here is that Microsoft does not allow resale of Volume license keys, so our key is obviously not in line with the MS licensing rules.
This means the following: as soon as Microsoft finds out that a company is reselling their Volume license keys it will disable the whole batch, basically company keys will get banned and your Windows install will ask for new activation.
In our case this hasn't happened yet. It's two months after the activation and Windows is still working. Updates, and everything else, works perfectly.
Our second key turned out to be a Retail key…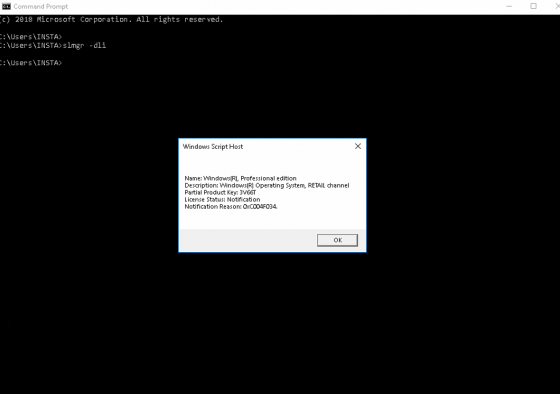 This looks good in the beginning, but after more investigating it we figured that this license is Microsoft Software Developer Network (MSDN) or MS TechNet license.
These are technically "Retail" licenses, but are not intended for sale or resale. These licenses are for developers and IT people who pay certain subscription to Microsoft and have specific reasons to use them. Also, these licenses never expire. However, these can only be installed up to N times, and as soon as they are installed more than N times, Microsoft will block them for abuse.
Besides these, it seems that on eBay, you can buy the OEM licenses for a similar price. Sellers claim that these are refurbished licenses, but buying these is technically not legal, especially if you are buying just the key. These licenses need to accompany specific hardware and you should not use them with anything else, neither you can transfer those to another PC.
In conclusion, all of these cheap eBay Windows 10 licenses are sort of pirated licenses. Technically, this works and you can activate your copy of Windows, but it's not a moral thing to do, and there is no warranty.
If you buy these licenses from Amazon or eBay, your Windows might work for 10 days or 5 years, it all depends how soon Microsoft will catch the reseller who broke their licensing rules and suspend his keys and consequently, the key you bought.
There are users on Tomshardware and Reddit, who reported that their Windows license was deactivated in less than six months, but many users claim they bought licenses couple of years ago and these still work… So, it is practically gambling.
We will update this article when our cheap eBay license expires or Microsoft blocks it.