A codec is a device or program that has the ability to perform encoding and decoding on a digital data stream.Codecs are able to encode and decode files for viewing or editing a stream or signal for transmission, storage or encryption. They are often used in video conferencing and some streaming media applications.
This was in an effort to compress files small enough to be readily transmitted across non-broadband networks and kept on slightly more expensive media, such as non-volatile memory and hard disk as opposed to formats such as CD-ROM and DVD.
Many of the codecs around are designed to emphasize certain aspects of the media to be encoded. So a digital video (which would use a DV codec) of a news event, such as presidential elections or an international event, needs to be able to encode motion well but not necessarily exact colors.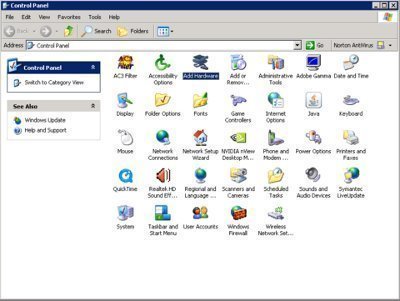 You can find well over hundreds if not thousands of codecs out there, and they range from those that are downloadable for free to those costing hundreds of dollars. This may cause some compatibility and obsolescence issues.
Steps to Install a Codec in Windows XP
Step 1. Click start.
Click control panel
Click 'Add hardware' -the Add hardware wizard will pop up
Step 2. At the Add hardware wizard
Click next
Select 'Yes I have already connected the hardware' radio button
Click next
Choose "Add a new hardware device" at the bottom of the list.
Click Next
Select "Install the hardware that I manually select from a list (Advanced)"
Click Next.
Select "Sound, video and game controllers" from "Common hardware types".
click Next.
Select "(Standard system devices)" from "Manufacturer".
Note: To install or reinstall video codecs, select "(Standard system devices)" from "Manufacturer" and "Video Codecs" from "Model" instead.
Click on "Have Disk" button
Click Browse button in the Install From Disk dialog box. Navigate to folder C:WindowsSystem32, and then locate mmdriver.inf file. Highlight mmdriver.inf and click Open or simply double click on mmdriver.inf file, then click OK in the Install From Disk dialog box.
Click on "Continue Anyway" button if a warning about logo compatibility pops up.
A list of audio codecs supported by mmdriver.inf appears on the Add Hardware Wizard.
Select a codec that you want to install. All codecs that you want must be installed one by one. Select one of the codecs needed such as Microsoft IMA ADPCM Audio Codec, and click on Next to reinstall the codec (on install the new codec is not yet be installed). MCI drivers are not needed, as these are legacy drivers for Windows 95/98/Me.