An Ultrasonic Pest Repeller is an electronic device that uses ultrasonic sound waves to repel insects, rodents, and other pests. Though humans are incapable of hearing these sounds, many animals, insects, and rodents can. There is much debate concerning the ultrasonic pest repeller's ability to actually get rid of pests. While some people claim that ultrasonic pest repellers successfully rid their homes of pests, others argue that the device is only partially/temporarily effective or simply ineffective.
How Ultrasonic Pest Repellers Work
Ultrasonic pest repellers depend on ultrasonic frequencies to disturb pests' natural mating rituals. An ultrasonic frequency is any frequency over 20,000 Hz, which is the maximum limit of human hearing. Humans cannot hear noises beyond this point because the human eardrum does not vibrate fast enough to detect these sounds. However, other animals such as dogs, cats, insects, spiders, and rodents can hear these ultrasonic sounds. While different animals respond to ultrasonic sounds in different ways, most do not like these noises and flee as a result. Some ultrasonic pest repellers produce a single frequency tone while others alternate the frequency in order to make it more difficult for pests to adapt to it.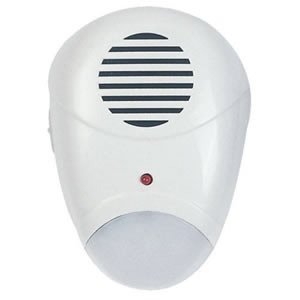 Applications
Ultrasonic pest repellers can be used in any home, office, or warehouse to reduce or eliminate the population of a wide variety of pests. Most homes in the United States and abroad have a moderate to severe infestation of cockroaches. These roaches can be driven away once an ultrasonic pest repeller is activated. Likewise, an ultrasonic pest repeller can control other pests such as moths, mosquitoes, fleas, spiders, and rats.
Advantages
Ultrasonic pest repellers have several advantages. They are environmentally friendly and do not pose any health risk to users. They do not contain any chemicals and do not have to be cleaned or emptied like other pest control devices. Because humans cannot hear ultrasonic frequencies, ultrasonic pest repellers do not disturb nearby users in any way. In fact, the only thing that the user generally notices while using the device is the reduction in pest the population.
Disadvantages
Although ultrasonic pest repellers can be advantageous, they have several disadvantages as well. Generally, the biggest disadvantage is the uncertainty about whether they actually reduce the pest population. Cockroaches are temporarily agitated when exposed to ultrasonic frequencies but soon adapt to and eventually ignore them completely. On the other hand, ultrasonic frequencies do not affect spiders at all. Ultrasonic sounds mildly affect rodents as they usually return to the area. Ultrasonic pest repellers that permanently keep insects and rodents away do exist. Unfortunately, their frequency levels would also damage the eardrums of any humans or animals in the area.