Sticky Keys is a Microsoft Windows accessibility feature, designed to aid computer users who have problems holding down multiple keys at once. Microsoft created this feature in order to improve user accessibility to specific Operating System commands that require specific, multiple-key combinations to run.  For example, if a normal Windows key combination requires the pressing of the "CTRL" and a letter key at the same time, the Sticky Keys feature lets you press a single key multiple times to execute the command. Although Sticky Keys is an enabling, assistive technology, many computer users find the feature "annoying" and prefer 'normal' computer use.
How to Turn Off Sticky Keys
Step 1 Press the shift key five times in succession.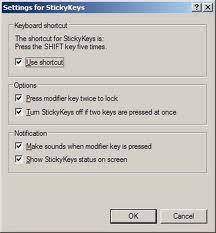 Step 2 – Select the "Go to the Ease of Access Center to disable the keyboard shortcut" hyperlink on the subsequently displayed menu.
Step 3 – Remove the check from the check box beside the "Turn On Sticky Keys" menu option.
Step 4 – Click "Save" and then "Apply" to turn Sticky Keys off.
*Note that the "Ease of Access Control Center" is referred to under the "Accessibility Options" label in Windows XP.
Miscellaneous Sticky Keys Information
Note 1– In order to play an audible tone when one of the Windows modifier keys is pressed (CTRL, SHIFT, ALT, or the Windows key), released, or locked, check the "Make Sounds when modifier key is pressed" check box on the Ease of Access Center control panel.
Note 2 – To provide a visual indicator on the Windows Taskbar when the Sticky Keys feature is turned on, select the "Show Sticky Keys status on screen" check box on the Ease of Access Center control panel.
Note 3 – To remove the option that allows the "SHIFT" key to be pressed five times to open the shortcut to the Sticky Keys options, remove the check mark from the "Use shortcut" check-box when the Ease of Access Center control panel is opened.