For many small, medium and large businesses outsourcing a call center is an excellent way to generate sales and help current customers with tech support and customer support issues. While some larger companies have the money, time and resources to put in place their own call center, most smaller and mid sized businesses opt for a streamline approach to call centers and choose to outsource their call center needs. Here are some tips on how to outsource a call center.
If you are looking to outsource a call center, your business must first decide what they are trying to gain in the process. For instance, most businesses are looking for a low cost way to either sell their goods, support customers with technical problems or customer service issues. The reason most businesses choose to outsource call centers is usually due to the low cost and management in place that is far more affordable than it's business spending lots of time, resources and labor creating their own call center from scratch.
Outsourcing a call center does take decision making and careful analysis on the business side, as well as consultation and solutions on the outsourcing side. For instance, before a business decides to contract a call center with an out sourcing firm, it must first look at its business needs and understand how the new service will either spur sales or enhance customer satisfaction, thus increasing customer retention and limiting customer churn.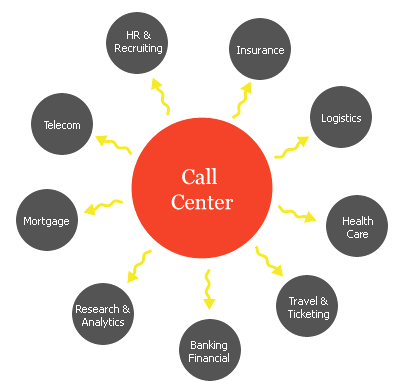 Once a business knows what kinds of services it needs, a business usually requests bids from call center outsource services. Most of the time the bidding process removes lots of contractors that can not meet the businesses qualifications, labor requirements and technology requirements. From usually 2 or more bids, the business then makes a choice or further consults with call center outsourcing companies on bid price and solutions that they can offer.
Once a call center is chosen and contracted for services with a business, a deeper consultation takes place in which the business and the outsource work together to create a solution that either generates sales for products or services, gives customers support for billing or technical products.
It is up to the business to decide the amount of resources it is determined to give the outsourcing company in order to deliver results. For instance, a large computer company with only a handful of tech support specialists hired through a call center can do more harm than good. If you don't' have enough resources in place, your support services will lack credibility and customers will be turned off by your effort. Most call centers are created to give enough resources to call center outsourcing companies to do a job right, this includes having enough technical and labor resources in place, having a clear mandate, software application and technical abilities, having a labor force that can handle the volume of calls and that are well trained to handle tasks that they are given.
In addition, it is important that certain milestones are set up throughout the contract to make sure that customer satisfaction is high, that enough calls are being answered in a satisfactory manner or that enough sales are being generated.
Being able to determine if a call center is achieving results and accomplishing goals is usually the work of management using metrics such as customer surveys, retention and churn data and sales data.
There are dozens of call center outsourcing companies available, as a business seeking solutions; it is your job to contract with one of them that can deliver results you are looking for. While many businesses are always looking for rock bottom services, sometimes when it comes to lower bids or the most affordable services, you may be cutting costs too much for a service to provide you with resources that are well trained or technical equipment and support that fit the needs of real world business issues.
Since each call center outsource company does offer a different product, our best bet is to analyze your specific needs and then do plenty of research to find a match with a call center outsourcing company that can fulfill these needs.