NEBS (Network Equipment-Building System) is a standard for telephony equipment.
NEBS was developed in the 1970's by Bell Labs (now Telcordia).
Many equipment vendors build their equipment to NEBS standards, even when they do not intend for their equipment to be placed in a Central Office. Equipment vendors do this because compliance with the NEBS standards shows buyers that the equipment is well built.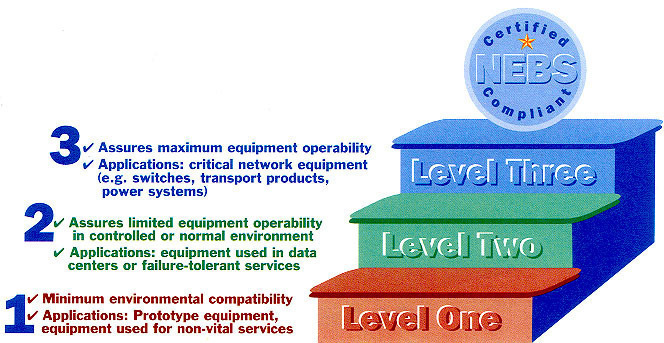 NEBS Standards
NEBS is officially documented in a collection of Telcordia documents, including:
| | |
| --- | --- |
| GR-63-CORE | Network Equipment-Building System (NEBS) Requirements: Physical Protection |
| GR-1089-CORE | Electromagnetic Compatibility and Electrical Safety – Generic Criteria for Network Telecommunications Equipment |
| GR-1217 | Generic Requirements for Separable Electrical Connectors Used in Telecommunications Hardware |
| GR-1221 | Generic Reliability Assurance Requirements for Passive Optical Components |
| GR-2930 | Network Equipment Building System NEBS Raised Floor Generic Requirements for Network and Data Centers |
| GR-2969 | Generic Requirements for the Design and Manufacture of Short-Life Information Handling Products and Equipment |
| GR-3028 | Thermal Management In Telecommunications Central Offices: Thermal GR-3028 |
| GR-357 | Generic Requirements for Assuring the Reliability of Components Used in Telecommunications Equipment |
| GR-468 | Generic Reliability Assurance Requirements for Optoelectronic Devices Used in Telecommunications Equipment |
| GR-63 | NEBS Requirements: Physical Protection |
| GR-78 | Generic Requirements for the Physical Design and Manufacture of Telecommunications Products And Equipment |
| SR-3580 | NEBS Criteria Levels |
| SR-4087 | Physical Design Certification of Bare Printed Boards |
| SR-4407 | Adhesive Certification |
| SR-4408 | Flux Certification |
| SR-4409 | Legend Ink, Marking Ink and Adhesive Label Certification |
| SR-4410 | Solder Mask, Conformal Coating, and Repair Polymer Certification |
| SR-4568 | Separable Electrical Connector Certification |
| SR-4808 | Printed Board Assembly Certification |
| SR-4935 | Connector to Cable Assembly Certification |
| TR-NWT-000930 | Generic Requirements for Hybrid Microcircuits Used in Telecommunications Equipment |