RBOC (The Regional Bell Operating Companies) were created as the result of a legal dispute between the US Justice Department and the AT & T Corporation. In 1984, the American Telephone & Telegraph Company split its local operations into 7 autonomous RBOCs that became known as "Baby Bells". In the beginning, these companies were called RHCs (Regional Holding Companies).
After 1984, one part of the AT & T was split to form Bellcore that served as a standard body for other Baby Bells. The Science Applications International Corp. acquired Bellcore in 1997.
By 2000, most of these companies have merged and only three original Baby Bells kept their independent status.
Century Link, Verizon and AT & T have the Regional Bell Operating Companies as predecessors.
An RBOC can also be referred to as a Local Exchange Carrier (LEC).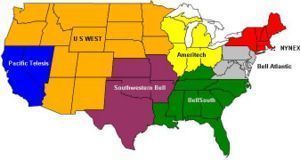 The RBOCs
The seven original RBOCs were:
Ameritech
Bell Atlantic
BellSouth
NYNEX
Pacific Bell
Southwestern Bell
US West
NYNEX became part of Bell Atlantic in 1997 and is now part of Verizon.
Pacific Bell was purchased by SBC in 1998.
Southwestern Bell became SBC in 1998.
Ameritech was purchased by SBC in 1999.
Bell Atlantic became Verizon in 2000.
US West merged into Qwest Communications in 2000 and then into CenturyLink in 2011.
BellSouth is the only RBOC to retain its original identity.
Trademarks
After the dispute has been settled, the AT & T could not use the Bell logo or name (the only exception was the AT & T Bell Laboratories). The only company that kept the word "Bell" in its name after the BellSouth Acquisition was the Cincinnati Bell.
Verizon and Bell Canada continued to use the Bell logo and trademark. Verizon is using in on its payphones, trucks and hard hats. Malheur Bell, a local telephone company that belongs to Qwest, kept using the Bell logo and name until 2009, when it was merged into Qwest.
AT & T does not use the Bell trademark, although its exchange companies do have "Bell" in their names. However, since 2002, these companies have been operating under other names.