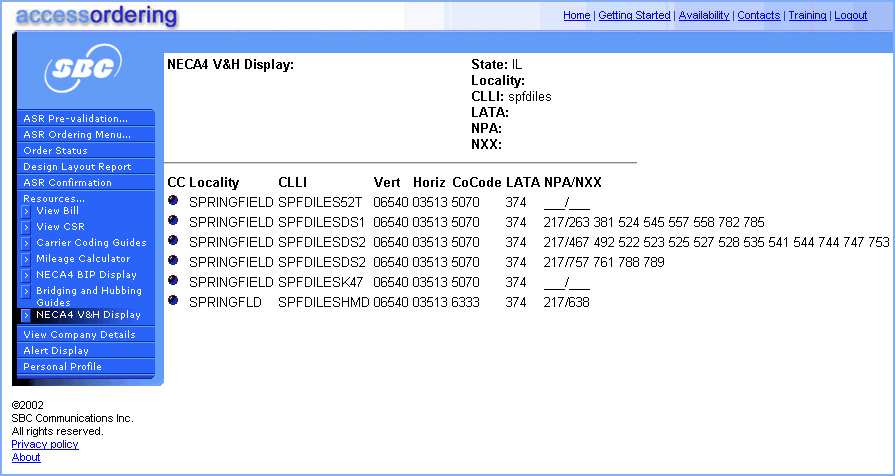 CLLI codes, or Common Language Location Identifier, pronounced "silly codes", are codes used by telecommunication companies to identify specific industry equipment. CLLI codes are 11 characters long, may be comprised of a combination of letters and numbers, and are used by all telecommunication companies in North America. While CLLI codes were first created and used by Bell, they were soon adopted by all telecommunication companies due to their need to be interconnected with Bell. Today, CLLI codes are maintained, issued, and trademarked by Telcordia, previously known as Bell Communications Research, Inc.
How CLLI Codes
CLLI codes consist of four characters to denote the city, known as the "Geographical code", two characters to denote the state or province, known as the "Geopolitical code", two characters to denote the physical location or address, known as the "Network Site code", and three characters to denote the specific piece of equipment, known as the "Network Entity code". For example, the CLLI code "HSTNTXMOCG0" is used to denote the CG0 analog telephone switch at the AT&T Mohawk Office (MO) in Houston, Texas (HSTNTX).
Applications
CLLI codes are used to reference specific industry telephone equipment for a variety of reasons, such as making repairs, replacing old equipment, ordering phone service, recovering call detail records, and assisting in tracing calls. Without CLLI codes, telecommunication companies would not be able to identify specific equipment and would, therefore, be unable to specify modifications to existing infrastructure.
Advantages
CLLI codes are advantageous because they allow telecommunication companies to specify exact equipment at any location in North America. By labeling the equipment part number, office number, city, and state in a CLLI code, a telecommunication company's central office can keep a record of all equipment parts that they own and immediately reference any particular part when necessary.