A 110 block is a punch-down block used to connect wiring for telephone systems, data network wiring, and other low-voltage wiring applications. It improves on the 66 block by supporting higher frequencies and using space more efficiently.
A punch-down tool is used to force solid wire into metal slots on the 110 block. Present residences typically have phone lines entering the house to a sole 110 block, and then it is spread by on-premises wiring to outlet boxes all over the house in a star topology.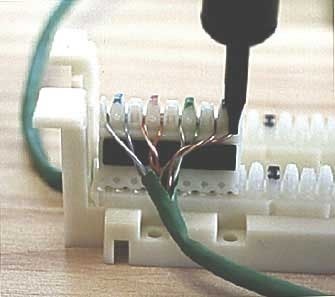 Sometimes due to over usage of 110 block, the wire's crumbs get stuck into it. Such stuck crumbs could create problem in punching new wires.  An instrument identified as a Spudger can be used to get rid of the surplus crumbs.